LED strip lights are the technology of today. And are perfect for any rebuild but specially for cafe racer. Why? Because they are much smaller and still much brighter as traditional light bulbs.
The LED technology gives us so many new options. Much Smaller and still bridger then usually lightbulb.

What Are LED Light Strips?
Also knows as LED ribbon lights or LED tape, LED strip lights are flexible circuit boards populated by SMD LEDs, which are surface-mounted diodes that emit light. There is an adhesive backing and other components to this as well. In the past, LED light strips were solely used in task lighting, backlighting, accent lighting, and applications that involved decorative lights.
Higher powered SMDs and luminous efficacy have enabled LED light strips to be used for applications of indirect lighting, replacements for halogen lighting fixtures, fluorescent lights, and in high brightness task light applications. Also, LED light strips are used during the process of manufacturing during Ultra Violet inspections, growing plants as well as costume and set design.
LED light strips vary in color, water resistance, choice of SMD, control type, driving voltage and whether it is a constant voltage layout or a constant current layout. LED light strips are also used to line the body of motorbikes and other vehicles as both a safety feature and a decorative feature. Any customizations of LED light strips require LED controllers to adjust individual LED activity, color and brightness. This can be done with customized microcontrollers or an included controller.
LED light strips look particularly attractive when attached to Cafe Racers.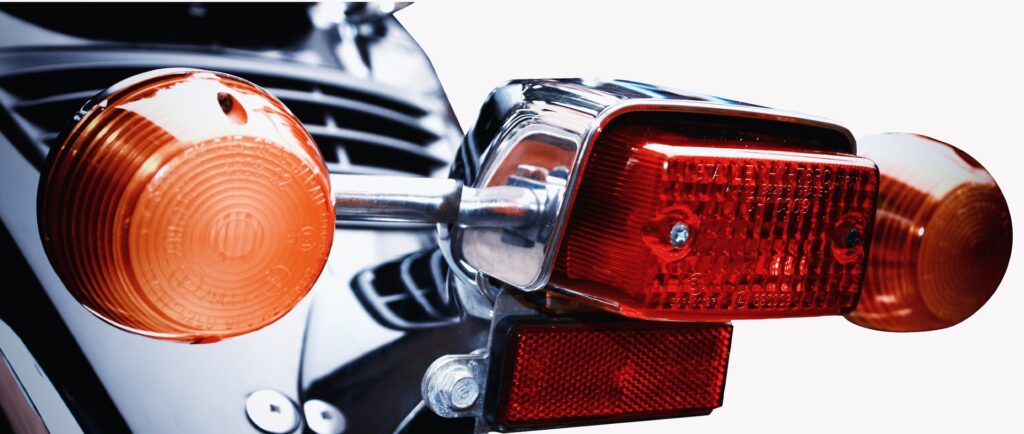 The 6 Best LED Strip Lights for Cafe Racer Style Bikes:
1) Tail Integrated Indicator Brake LED Strip All-In-One
Perfect for scooters and motorcycles, particularly the Cafe Racer bike, this thirty-two LED RUb Brake Turn Strip cleans up your bike's tail section by getting rid of badly designed ORN rear brake lights or huge turn signals. This LED light strip features left and right amber turn signals and sixteen gauges wire-coated Teflon leads that are twenty-four inches long. The twelve-volt input voltage fits all motorcycles.
There is an easy to stick on adhesive for any type of surface. The 3M self-adhesive backing makes it easy and convenient to attach this strip light immediately. There is a 120-degree angle for viewing and a three-chip 3528 LED for safety and wide visibility. This is a flexible strip that features limitless options for mounting and will conform to any surface. The bar of lights is a five-wire hook up including ground, left turn, right turn, brake light and running light.
Last update on 2022-10-19 at 14:11 / Affiliate links / Images from Amazon Product Advertising API
2) 2-Piece Flexible Amber LED Strip Indicator
LED strip indicators are easy to install with two connections for the wires. Red is positive and black is negative. This indicator lights up to a full orange amber color, not unlike other motorcycle signal bearings. This LED Strip features a one-year warranty and signals to any style and size of rear or front 12-volt motorcycle vehicles. You can use these as license plate lights, trailers, lights, turn signal lights and it works for both scooters and motorbikes.
This universal LED strip features a 32-piece super bright 3528 LED and 2-pieces of PVC LED ten-centimeter strips. There is a Scotchlok tape on the LED strip back and a 150-cm long cable. Included in the pack are two pieces of 12V amber LED Universal turn signal motorbike LED Strip Indicators.
2x 20cm 32led pvc strip Universal Motorcycle Bike Amber LED Turn Signal Indicator Blinker Light 12v
2x Universal Motorcycle Bike Amber LED Turn Signal Indicator Blinker Light 12V
2pc 20cm pvc strips with 32pcs supper bright 3528 LED, 100cm lead wire and Scotchlok tape on the back of the strips
These LED light strips are used for Motorcycle License Plate Lights, Car License Plate Lights, Lots of Common uses
New-SMD 3528LED Light Turn Signal Brake light.each strip with 32led
Universal Fit Easy Installation. Fits all Motorcycles ATVs Scooters Mount Anywhere
Last update on 2022-10-19 at 14:11 / Affiliate links / Images from Amazon Product Advertising API
3) 2-PC Switchback Flexible Dual-Color LED Amber and White Turn Signal Waterproof Adjustable Strips Bar Kit Motorbike Universal Fit
This daylight LED strip light is a Universal strip good for any style of bike including your Cafe Racer. When switching on the turn signal, you may need a Load Equalizer. The green wire signals the light the black wire is for negative and the red wire is for the Driving LIght. This strip works for many brands of motorcycles including Yamaha, Suzuki, KTM, Kawasaki, and Honda.
This strip light is easy to install with a cable tie and a self-adhesive tape. Each strip of LED is individually powered by Super Bright thirty-six separate LED lights with a viewing angle of one hundred twenty-degrees for amber and white color. In the daylight, it keeps its white color while at night to signal right or left, it turns amber in color.
Last update on 2022-10-19 at 14:11 / Affiliate links / Images from Amazon Product Advertising API
4) Rear Tail Indicator Brake LED Bar Strip Light For All EU Motorbikes
This rear-fitting light keeps you safe on the road as it illuminates you no matter where you go. The amber turn signal and red light for both stop and brake tell the drivers behind you that you are stopping or turning. One piece is included in your delivery and the plastic rubber material fits perfectly on your Cafe Racer Bike. The 12-Voltage light measures about one meter in length and is supremely easy to stick on. 
Light up your way especially at night where the weather in your community may not be predictable. This product increases your visibility in such a way that you won't be hard to see by other drivers on the road. You never know whether it is going to rain at night or not. This product could be an essential lifesaver when you become clearly visible no matter what the weather is like.
5) Ankia 40-LED Tailight For Motorbikes
Designed for most motorcycles, this forty-LEd taillight by Anki will fit your Cafe Racer perfectly. Upgrade the unique style and appearance of your motorcycle by using this LED light set. It has a black powder coating over a metal housing on its license plate bracket. The high-power super-bright bulb provides maximum safety and visibility. This set of LED lights can be used as a marker light or a brake light.
It can also be used as a running light. Fits all brands including Aprilia, Benelli, Ducati, Suzuki, Yamaha, BMW, Kawasaki, Honda, and Harley. Professional installation is the recommendation for this set of LED lights. Weighing just 380 grams, this product features twenty-four red LED lights, four white LED lights, and twelve amber lights. This is a forty-watt smoke lens color 12-volt product.
Last update on 2022-10-19 at 14:11 / Affiliate links / Images from Amazon Product Advertising API
6) Partsam 6-LED Flexible Turn Signal Taillight
This turn signal taillight is backed with stick tape you can mount anywhere on your Cafe Racer. It can be curved and bent easily into any position you desire. The silicon-built tail light is waterproof and you can go through dust, snow, dirt, water, or sand without a problem. Your taillight will remain intact. This set of lights can be sued as trailer lights, car license plate lights, plate blinkers, indicator blinker lights, accent lighting, and running lights.
This set of lights features 12-volts and an orange or amber color not unlike your own bike's turn signals. It is generally highly recommended to increase your night-time visibility with the use of LED lights. Even if you might say that your Cafe Racer already has complete lights the moment you drove it home from the factor, extra lights are still recommended. The reason is that even if you can see at night very clearly, the problem may be that other people may not see you as clearly. Adding LED lights is the only solution for you to become much more visible at night.
Last update on 2022-10-19 at 14:11 / Affiliate links / Images from Amazon Product Advertising API
Summary
LED Strip Lights Are Essential To Increase Night-Time Visibility
For most people, motorcycles are a joy to ride around. Taking a trip on a Cafe Racer just feels like pure freedom that is hard to match. Just like all other vehicles, however, you will need to attach LED lights on the tail lights to increase your level of safety. Of course, most motorcycles already come with stock lights, such as the brake light or the turn signals. However, using LED lights instead of or aside from just the factor lights will give you longer-lasting lights that you can rely on for up to ten times longer than the stock lights.
Not only can LED strip lights light up your license plate number, but these can also be used for giving your brighter turn signals, brake lights, and even your headlight. You get better night vision as well. No one knows what the weather is going to be like at any given moment. If you are riding around in the daytime, then it is easy to see rain or shine. In contrast, riding around at night in unpredictable weather is another story altogether. LED lights become a necessity to ride in inclement weather.
Recent Posts