If you're someone who takes his bike to the garage or mechanic for every single thing, I'm sorry to say that you're not a true bike rider. You're wasting money and missing out on the feeling of owning and maintaining a bike.
Every bike rider, especially the cafe racer riders should carry a well-equipped arsenal of all the necessary tools as you never know when you may require one.
Now, imagine you are stuck at a place where there is no dealership or garage nearby, what will you do?
The answer is, don't let that happen. Always carry a tool kit with all the necessary tools.
For that purpose, all you need to do is to prepare a well-equipped cafe racer tool kit.
Don't know how to make it? Need some advice?
Don't worry, I've got you covered. Well, that's what I'm here for. Through this post, I will help you in preparing the best cafe racer tool kit with the most required tools and will also tell you how to use them.
After reading this post, you will be able to fix issues in your bike on your own and you will save a lot of money too.
Trust me, once you start repairing and maintaining your bike by yourself, you will get the hang of it. I assure you, It will become your favourite hobby.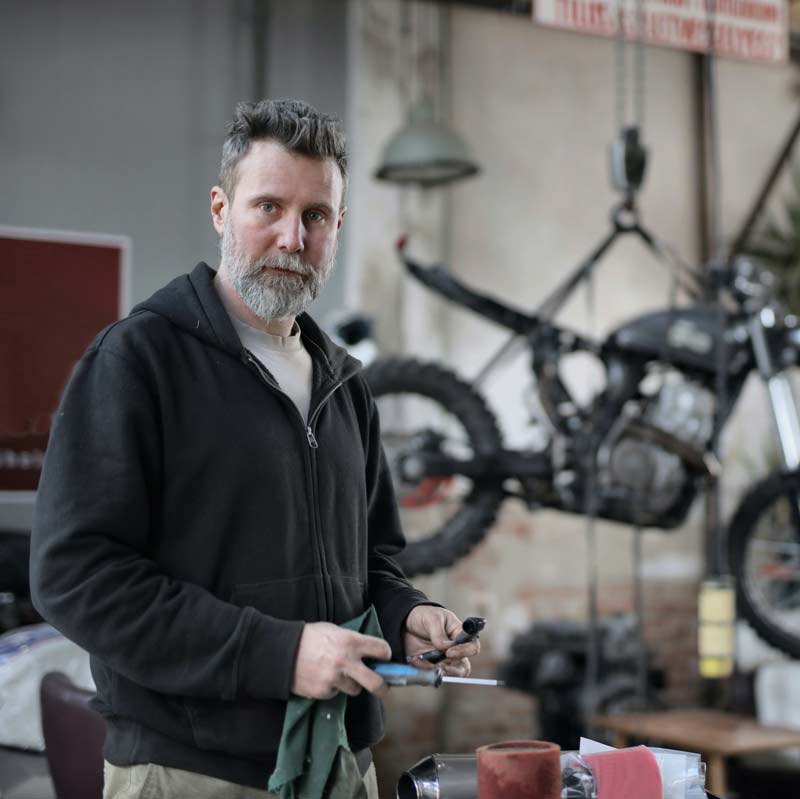 So, without any further ado, let's make your cafe racer tool kit!


Links marked with * and also images are affiliate links.
These are the 10 best cafe racer tools, every biker should own.
Socket Wrench
Wrenches
Hex Keys
Screwdrivers
Hammer
Needle Nose Pliers
Nitrile Gloves
Rags
Funnel
Side Cutters
1) Socket Wrench
The first and foremost thing you should own is a socket wrench. It is used to loosen or tighten nuts and bolts. Socket wrenches have a long handle to which multiple-sized sockets can be fixed to tighten or loosen fasteners of different sizes.
Choosing the right socket size is very important. If the socket is too large, there are chances of hurting yourself or damaging the tools. Therefore, choose the right size that fits well.
Generally, there are four basic types of socket sizes: ¼ inch, 3/8 inch, 1/2 inch and finally 3/4 inch. These are available in different shapes like hexagon, double square, double hexagon to fit on different bolts.
For example, the 6-point socket fits the hexagon bolt, 8 point socket fits the square bolt and the 12-point socket fits the double square as well as the double hexagon bolts.
Each sized socket has its own importance. While the 12- point socket allows you to fix the wrench quickly because of double positioning, the 6 -point socket is tighter.
Also, keep in mind that European bikes got different sizes!
2) Wrenches
While repairing a bike, the first tool you require is a set of good-quality wrenches because the motor parts are bolted together.
You can find many different types of wrenches in the market. But, choose the ones with better grip and are also affordable. Look for the wrench with tighter jaws to prevent it from slipping at the ends. Also, if you're using an adjustable wrench, then be very careful as it can damage the nuts.
All the wrenches are made of metal and come with chrome-plating in order to protect them from rusting.
Wrenches are divided into three categories – the ring and open wrench, the flank-drive wrench and the adjustable wrench and the socket and ratcheting wrench. Find the best wrench match for your bike before buying one. You can also take the advice of your mechanic for this purpose.
3) Hex Keys | L-Key | Allen
Hex keys are also called Allen wrench or Allen keys. These are very important hand- tools used for driving hexagon bolts and screws. These have a long handle with a hexagonal tip.
Similar to the wrenches, the hex keys also come in different sizes. Although the keys don't take up much space in the toolkit, the good idea is to keep only the size that suits your bike rather than keeping all the sizes.
I recommend keeping a maximum ten-piece set. Also, look for a well-designed set that doesn't take extra space and fits into your kit perfectly.
4) Screwdrivers
Screwdrivers are another most common and handy tool that is very important in your cafe racer tool kit. You will always need one to dismantle parts of the bike that are screwed together. Screwdrivers are also available in different sizes.
Look for the one that has better grip and hold. Don't choose a screwdriver with a long handle as it can slip off the screw. Choose the medium-sized screwdriver for your kit. You can also keep 2-3 of them which suits your bike.
However, the most annoying problem with the screwdriver is wear and tear. But still, it is the most needed tool in the kit.
5) Hammer
I know, you might be confused as to what possible role a hammer will play in your toolkit. Right?
Now, you don't require a giant hammer as you won't be hitting your bike. Only a small and compact hammer will do the job. It can be used to lightly tap the annoying nuts and bolts or to work with a wrench. Generally, the hammers are made of metals.
Look for a smaller one that doesn't increase the extra weight of your kit. Another good option is to get a rubber hammer also known as Mallet. It is great for using with slightly delicate fasteners where chances of damage are high.
6) Needle Nose Pliers
Pliers are a must have tool in a cafe racer tool kit. Their basic function is to hold, cut or clamp the parts. Though there are different types of pliers available in the market, the good thing is you don't need to have multiple pliers in your toolkit.
Only one good plier will do the job. With that said, the type plier which is most useful is the needlenose plier. It can do almost 95% of the job including pulling, holding, cutting etc.
Get yourself a compact-sized plier preferably with zip-ties and snips for wires and you're good to go. The grip of the plier is very important to keep in mind while looking for a good plier.
7) Nitrile Gloves
A pair of good quality nitrile gloves should be there in your toolkit. You can wear these while working on greasy and dirty parts of the bike.
If you're ignoring these, if you don't mind your hands and clothes getting decorated with grease and dirt. You should know that some chemicals can actually irritate your skin. So, better wear gloves.
Apart from the nitrile gloves, you can also keep some mechanic's gloves as they provide better grip on tools and also protect your hands and knuckles from getting hurt.
8) Rags
Keep a good number of rags in your toolkit. These will be used to clean the part of the bike and the tools.
9) Funnel
You will be working with many fluids. So, the good idea is to keep a couple of funnels to work easily with oils without creating a mess. You can get basic plastic funnels for this purpose.
10) Side Cutters
The function of side cutters is to cut and stripe wires and legs of the components. You can keep a good side cutter in your toolkit as you might be working with wires. However, a side cutter is used very less but it's better to keep one for the time you feel the need for it.
That's all about the cafe racer tools folks! 
Now, let's talk about the maintenance
First thing is, you should always take good care of your bike as well as your toolkit. Here are the key points you should remember while picking your tool kit :
Keep the right-sized tools in your cafe racer tool kit. The size should be chosen in accordance with the type of bike you own!!
The tools should be compact as well as durable. These shouldn't add unnecessary weight to the kit.
Learn to use the tools at first before playing them on your bike.
Read the user manual well before opening the parts of your bike and have the proper knowledge about the functions and working of the motor parts.
Don't spend unnecessary money on buying fancy tools that you don't even know how to use.
Take help of your bike repairman in understanding your bike better.
That's about it. These were the most important tools you should definitely keep in your cafe racer toolkit. But, just keeping these tools in your toolkit won't help. As mentioned in the key point, you should know how to use them properly.
Also, while buying these, look for the durable as well as affordable tools. You don't need to buy everything you get, instead keep only important ones.
Another important thing, before starting working on your bike, get yourself a user manual.
Similarly, start using tools with some assistance at first. Once you learn to work with your bike, you will be able to fix most of the issues on your own.
Lastly, handle your cafe racer with lots of care and love!!