Looking for the most popular helmets? Are you wondering what the 7 most popular Caferacer Helmets 2021 review is? Every biker should where a motorcycle helmet. And sometimes the typical beginner helmets are not the right fit for everyone.

There is no price too high to protect your brain. I take helmet selection for my Cafe Racer quite seriously, and you should, too.
Here's a look at some of the safest, best looking newer helmets in the market.
Like me, if you are looking for the best motorcycle helmet money can buy, I got you and your head covered, literally. Now that you are determined to purchase the best vintage Cafe Racer helmet money can buy but have no clue what choice to make, I am here to help.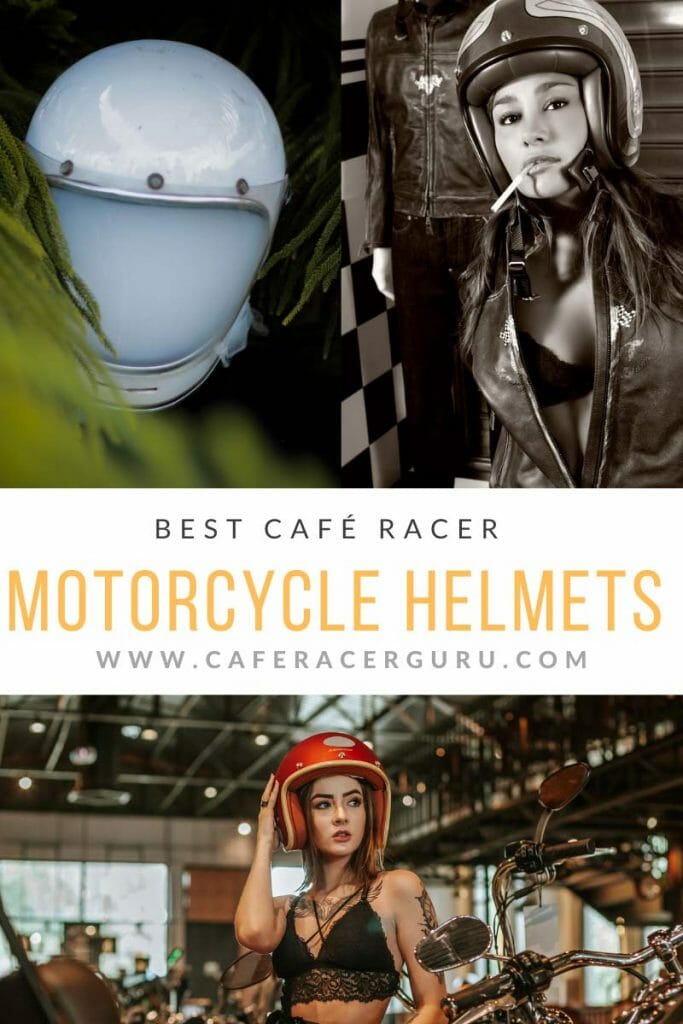 Cafe Racer Vintage Helmets Top 3
Table could not be displayed.
For personal reasons, I have done my own research on Cafe Racer helmets and know which ones offer features with the most protection while preserving optimal comfort. As you know, I am a Cafe Racer fanatic and love all the bells, whistles and accessories that go with it. I have read so many users' feedbacks and specialized reviews that I can tell you right now which helmet is the one I bought for myself. Whether you ride daily to work or are a weekend rider, when it comes to your motorcycle helmet, you need to be meticulous for both comfort and safety reasons. Helmets are as precious as your Cafe Racer because this is the only that stands between your head and the pavement, in the event of a serious accident or injury.
However, certain motorcycle styles and riding habits such as those of the Cafe Racer, do have specific helmets that match the bike. There are basic differences between different helmets such as being an open-face type or a full-face type. Full face-types of helmets are the kind that is closed. These provide your entire head with extra protection because they have a solid section that covers your chin.
Since the shells of these helmets are made from one single area, you get the best protection from collisions and falls. The safety, comfort, finish and outer shell material determine the price. There is usually a built-in sun visor that comes with full-face helmets as well as extensive ventilation and removable inner linings. More expensive versions are usually tested for how they fit when you go into a wind tunnel.
There is usually great aerodynamics that maintains stability for your head even when you on high speed with your Cafe Racer. Some full-face helmets also come with Bluetooth built into the helmet. Open face helmets are open helmet-types. These helmets come in fashionable types and even retro types. Even the retro types, however, are modern helmets with an old-fashioned feel. Older engines such as Cafe Racers look great when paired with a vintage-looking open face helmet.
You can also color-match your Cafe Racer with a beautifully-designed, same-color helmet. Fashion helmets are usually considered real accessories of fashion. There is no front chin guard fixed into place. Helmets that are open face sometimes come with visors, though some don't. An open-face helmet protects the side of your head more than your face.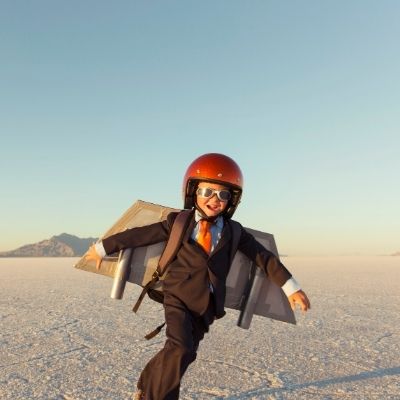 There are fewer sideways tipping tendencies. Other types come just to your ears. These look very smooth, even with less protection. When you go high speed on your cafe racer, the helmet tends to lift somewhat from your head.
Nonetheless, the criteria for the seven helmets that we liked are those that we have tried ourselves. Guys, I am not going to recommend something I haven't tried. The helmets listed here all fulfill the ECE and DOT requirements. We have listed only the helmets with replaceable upholstery that can be removed and with adaptable or changeable visors. Here are the top seven that I recommend:
7 Most Popular Caferacer Helmets 2020 Review
The first on the list for the 7 Most Popular Caferacer Helmets 2021 Review is the Biltwell Gringo S is my personal choice and is the helmet I myself use. I find it has the best price to performance ratio even now in 2021. For those with overly-large heads like myself, it may not be easy finding a helmet comfortable enough to wear for long stretches on the road. once each pad has worn off, the helmet that fits perfectly when it was new might be a literal pain in the head.
Knowing that few manufacturers build helmets that fit my noggin excessively well, I was sure that there was not going to be much joy in test driving the new Gringo S by Biltwell. Despite my doubts, I took measurements of my skull, found the size appropriate and ordered my own Gringo S.
Built around the ABS injection molded shell exterior, the Gringo S features an EPS liner that absorbs shock with interior padding meticulously stitched by hand. For comfort, there was also a chin bar BioFoam cushion and cheek pads. The Gringo S anti-fog shield features awesome options and simple mechanics for the hinge for easy removal to clean and for high style. On the left side of the rider, a configuration of snap and tab offers secure closure and speedy opening to protect wearers from wind irritation and road debris with hardly any compilation and very little fanfare.
The trim made of chrome around the shell's bottom rim and the eye-port is a great contrasting feature to the paint luster. It boosts the appearance of the helmet. A lot of quality finish and the fit were packed into the Biltwell Gringo S. The traditional color, shape, and style should appeal to the rider market in huge chunks. I have purchased a few accessories and parts from Biltwell and I have yet to be disappointed. The Gringo S maintains its "Quality Counts" motto and its top standards.
This DMD Vintage helmet has been my second personal favorite and has been with me after I purchased my first Cafe Racer. Just the seventies styling and vintage appeal of the DMD was so different from everything else, how could I resist? And let's face it, who owns just ONE helmet? Some open face helmets can weight up to a thousand five hundred grams. However, this vintage DMD weighs only a thousand grams and it STILL got ECE approval.
The lightweight feel of the construction fiberglass and low weight is so comfortable, although it does not prevent wind noise. On the other hand, even if it is not as quiet as the other open face helmets, it is still worth wearing. In fact, I have ridden for miles and miles on it without any pain developing across my head. Plus, if you want to wear sunglasses and goggles, there is definitely enough space.
All DMD motorcycle helmets are composed of four main components. These include a retention system, impact=absorbing liner, comfortable padding, and a sturdy and strong outer shell. Each component works together with the others to protect the motorcyclist's head and face effectively. Aside from being just head protection gear, you don't hear as much wind noise when you wear a helmet. All riders know that the sound of the wind tens to be quite loud as you rush past against it on your machine.
The sound of the wind makes all other road sounds hard to hear, such as incoming cars and even emergency vehicles. You tend to be safer when wearing a motorcycle helmet in more ways than one. You can't hear the roadway sounds and you are encased in a penetration-proof headgear when you wear a DMD helmet with sunglasses or goggles. Aside from lessening noise, a helmet also serves as skin protection, particularly in extremely hot or cold weather.
Depending on what state or country you live in, a motorcycle helmet by DMD protects you against all weather conditions. There are visors and even bubble shields you can attach to cut down on the glare of the sun, particularly when you are riding towards rather than against the sunshine. Also, during sunset or sunrise, you are protected against the glare. Helmets keep the rain out of the face of the rider in a thunderstorm, which involves reduced visibility. Your helmet increases your ability to see regardless of the weather, particularly if you attach a bubble shield to it as we mentioned previously.
3. Bell Bullitt Full Face
Bell Bullit is a retro version of the popular old Star-type helmets by Bell. This company has been in the helmet-making game for the last six decades and does reach the top ranks of helmet safety. Not everyone is going to like the old fashioned look, however, when you pair a gorgeous vintage retro-mod style helmet with an equally vintage-looking Cafe Racer, you will have a unique look all your own that lets you stand out from the crowd. I like that there were five colors available in the plain stylish design.


You get full protection from stones, bugs, cold, rain, wind, sun and noise when you wear a full-face helmet. Not only that, when you feel like some anonymity, but a tinted visor plus a full-face helmet will also give you great advantages in that direction. Riders that like privacy are going to love full-face helmets. The best part is that when you wear a full-face helmet there won't be a need to wear protective glasses. On long trips, these give you less fatigue because they insulate you from the environment.
The full-face Bell Bullit featured excellent ventilation and an angle with a wide-view. The Double-D ring fastener felt convenient to use and the suede interior was comfortable and felt expensive. Weighing 1.4 kilograms, this has met the Department of Transport certification for high standards as well as the ECE standard in Europe for safety tests acceptable in forty-seven countries. I mean, let's face it, what more could you ask for?
DMD has made the new Seventy Five helmet to celebrate their fortieth anniversary This newest helmet by DMD is reminiscent of the old off-road style helmets from the seventies. A remake of the icon shell from the seventies but with improved shell design and matching safety modern standards. it is both homologated ECE and DOT and it has three studs to attach a peak. This killer look exudes a really aggressive, cool aura that evokes motocross styles of the old school.
You will most likely first notice its lightweight feel. Just over one kilogram, the DMD Seventy Five weighs about four hundred grams less than most other helmets. Mainly, this is due to the lacking chin guard material and it certainly makes a big difference to feel such a light helmet when you do long drives.
The top-notch finish on the exterior has the DMD brand on one side. The liner inside is padded which I found quite comfortable. There is excellent visibility which is something you would expect from an opening this wide. It almost feels you are wearing an open-faced lid when you go riding with the helmet on.
Massive air flow amounts go through the mesh ventilation, around the chin guard and the eye-opening. Of course, at higher speeds, this equals a lot of wind noise. This will not bother you that much if you are used to open-faced helmets anyway.
Known for the design and style, the TORC T50 Route 66 creates helmets for every rider. Mainly, TORC's focus is to provide a biking and riding experience that is truly enjoyable. When you love racing out in the open or plan to go to the next ride up a mountain, you will love the TORC Route 66 Helmet.
These are open-faced but still, help protect you and are quite easy to wear. Many bikers may prefer a helmet with a full face. However, some get a tinge of claustrophobia with a full-face helmet. If you don't want to compromise your safety but do love a bit of freedom, an open-faced helmet is a must. This helmet is a great choice for those who love both comfort and style. Ideal for bikers, the three-fourths face helmet weighs a mere three pounds.
Thus, you won't feel burdened and can enjoy your ride for the long haul. Built tough, these lightweight helmets by TOR protects your head with its solid body shell. DOT approved, the ABS shell is truly advanced and feels tough when you feel its build. There is no need to adjust the snaps or break the helmet with this brand.
The moment you fit it on your head, you are good to go. These helmets by TORC are a true fit, so before you dive in and buy the helmet, measure the size of your head. Every biker is going to find an available TORC helmet. Most bikers will love the oval intermediate shape. As long as you select the perfect size, you may not even feel you are riding with a helmet.
6. and 7. Hedon Helmets: Hedonist Open- Face And Heroine
With their sleek shapes like a shell, Hedon helmets feature gorgeous colors and levels of comfort that are off-the-charts. The range of Hedon helmets is the pinnacle of open-faced designs. Every Hedonist helmet features calf liner and leather trim attached to the shell of the helmet with hand-stitching. This shell features a lightweight yet strong carbon-reinforced fiberglass you can wear hour after hour. You can accessorize Hedonist helmets with visors or goggles.
For the classic and custom crowd, the Heroine Helmet by Hedon is a hit, particularly those that love high-end brands and quality. With the Heroine Hedon design challenging Bell Bullitt's dominance, it fills the gap left by the Ruby luxury helmet brand. Heroine ousts Bullitt easily in terms of style since the Heroine has the seventies racing helmet look with a shorter profile and a broad chin. The retro race looks are further emphasized by the shape of the visor.
Bubble shields are round bubble-like shields to cover the face of the rider. There are a variety of bubble shield styles ranging from the seventies space-like aliens to deep-sea divers of the early 1900s. Many bubble shields are for helmets that don't have a full face, such as Jet helmets. Three-snap buttons fasten to the front of your helmet to give you a great shield against the elements such as dust, debris, flying rocks, strong wind, rain, and low-flying birds as you ride. What's great about bubble shields is that the air underneath the bubble still circulates quite nicely so you never feel suffocated. Typical for all Cafe Racer styles, Bubble shields are available for all the helmets mentioned here, full-faced helmets and for open-face helmets.
So there you have it, the 7 Most Popular Caferacer Helmets 2021 Review for your convenience. You probably won't be able to find a more honest review elsewhere, since I have purchased the first two helmets for personal use and have actually gone out and checked out the rest on the list. Take it from one Cafe Racer fan to another, these are the top 7 money can buy with the first two giving you the best price for performance ratio, in my honest opinion.