and "What does café racer mean?" let's dive right in!
A Cafe Racer is a power, lightweight motorcycle optimized for handling and speed rather than comfort. Which makes (comeplling) perfect for short distances and quick rides.
The control layout and bodywork reminding you of the early sixties Grand Prix motorcycles for road racing, Cafe Racers feature low-mount handlebars and visual minimalism. When you add LED strip lights to your Cafe Racer, the result is that you become much more visible at night.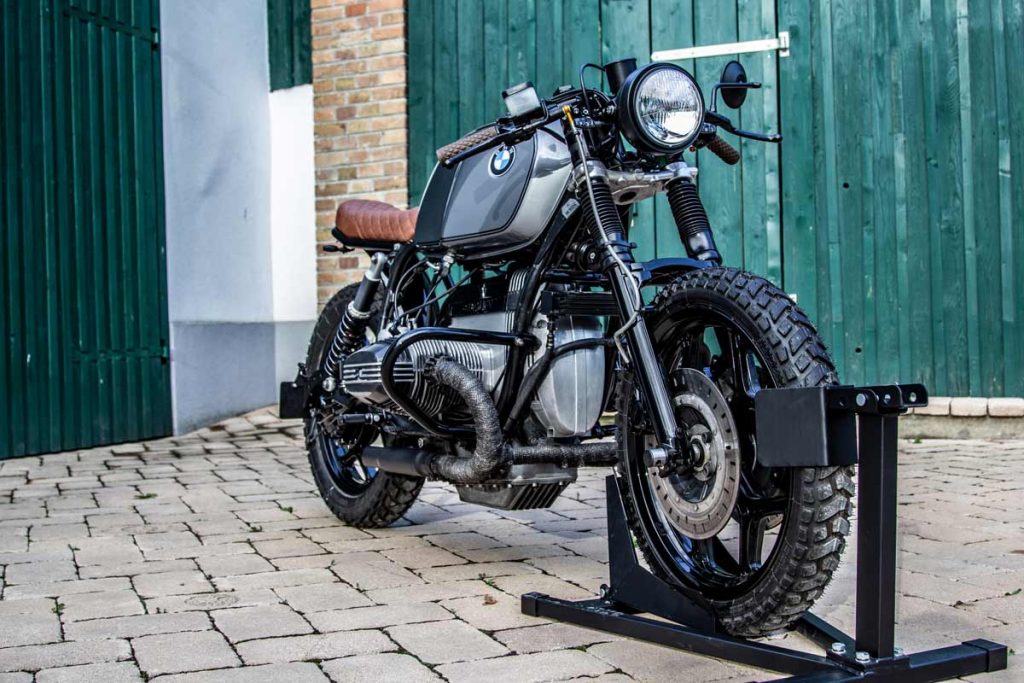 These also feature frequent knee-grips indented in the tank for fuel, elongated fuel tanks, and prominent seat cowls. The ergonomics of this machine are distinctive. There are narrow, low dropped bars, clip-on handlebars enabling riders to reduce wind resistance by tucking in and improving control. The posture requires footrests that are rear-set and controls for the feet. Distinctive full or half race-style fairings are sometimes mounted to the frame or the forks.
What makes a standard motorcycle to a Cafe Racer
Originating from the British 50s era cafe-jumping motorcyclists, the term Cafe Racer was used to describe a type of bike that was customized to be lighter weight and better performance.
The goal was to transform a standard motorcycle into an indie racer-wannabe. The definition has evolved and has since formed into a subculture of bike building DIYers.
The optimal features of a Cafe Racer include:
Increased speed
Better handling
Lighter brakes
Low-mounted handlebars
Slab-style seat
These bikes are race-style minimalist in design and not excluded from any brand. No longer locked into British makes, you'll find Cafe Racers derived from Harley Davidson's and Hondas alike. They're all over the world and host a loyal following.
The overall design of the bike is like the shadow of a racer. A racer that's gone to the dark side down back alleys and rough streets. Think, smoky nostalgia and vintage flare. That's what you're after when you build your Cafe Racer.
Have you ever thought about your own remodeling project? We looked at: How much would it cost and where to start with your own project.
My Custom BMW Cafe Racer
If you are a motorcycle lover you must admit that the current option of cafe racers is quite cool. From retro models to more modern design, the possibilities are almost endless. Today, several brands are ready to experiment with their cafe racers, both in terms of design, but also in terms of performance. However, getting a cafe racer is a considerable investment. Yes, you can, of course, build your cafe racer from an old bike, but you'll require special skills, enough space, the right tools and it will take you some time. If you are willing to work on your old bike and create a cafe racer with your own hands, go on!
However, most people will not have the time of the skills to do so. Ultimately, your best solution will probably be to buy one. But you'll still have to decide on its style. For instance, should you get a modern bike or should you go for a retro model? In general, modern cafe racers are designed for better stability and performance, but we all know that good retro designs can be extremely attractive.
If you are stuck in your decision and do not know how to proceed, you might want to read this classic retro vs modern comparison guide. Indeed, to make your choice easier, we put together a complete but concise guide about everything you should be aware of when deciding about the style of your cafe racer.
Also, we will include some of the best models you should consider buying, to avoid you losing precious time investigating.
Here are 5 Cafe Racer Hacks you need to know.
Are you ready to start?
An Introduction To Cafe Racers
Before getting deeper into the comparison, let's clarify what you should know about the cafe-racer culture. If you are passionate about bikes, you should already be aware that different styles of bikes symbolize different sub-cultures. The same applies to cafe-racers and, if you don't know it already, you should have a good idea of what do cafe racers symbolize. You might be a purist or maybe you love experimenting: the good thing is that no matter your preferences, today it is easy to find the perfect cafe racer for you!
What type of Motrocycle is a Cafe Racer?
Just to give you some context, you should know that cafe racers become popular in the 1960s. These years saw a boom in the use of bikes, which become part of many people's lives daily. Not only that, but riders also started to create their own culture, and customize their bikes. At that time, all the hype was around British bikes, with their elongated tanks and low-mounted bars: they were the first types of cafe racers. However, in the 1970s, British bikes got kicked out of the market by the more innovative Japanese bikes.
Today, things have changed again. Even though these motorcycles do not appeal to everybody, it is not an exaggeration to claim that the cafe trend has become mainstream.
Depending on the brand, manufacturers tend to emphasize different aspects of these bikes. For example, some decided to stick to the retro design, while other brands decided to differentiate themselves by adopting innovative and futuristic designs. With the rise in the demand of cafe racers, brands have adapted to appeal to different types of customers.
Even though a purist will tell you that factory-built cafe racers do not exist, the reality is the several manufactures are producing different types of such bikes. And, to be honest, it is a lot better to purchase one than having to build your own! You'll be able to choose the style and to enjoy a better performing engine.
Read the next sections to find out about the best classic retro bikes.
Retro Cafe Racers: The Best Models
If you dream about having a retro bike, but you don't know where to start, here are some of the best models you should consider. Finding the right might be challenging, but hopefully, this list will make things easier for you! If you want to build your cafe racer and creating a retro bike, the first rule is to select the right donor bike. Especially if you are not familiar with cafe racers, getting a good one (How safe and reliable are older motorcycles?) will save you money in the long term, Consider the following models to start with.
Before you start your own project. Might wanna check if an Cafe Racer is the right bike for you.
Which motorcycle makes the Best Cafe Racer?
The Best Looking Overall: BMW R-Series
Ok, yes you caught me. The BMW is my favorite Cafe Racer. The "boxer" engine caught me. BTW which was the main reason for my purchase."Unfortunately" high in demand, so the price is higher for a basis.
The Best Price-performance ratio: Honda CB Series
If you want to get an extremely high-quality bike, with the guarantee of superior performance and durability, the Honda CB series is probably your best solution. If you want to build your cafe racer, starting from such a bike will be extremely rewarding and allows you to easily create the cafe racer you want. However, keep in mind that getting such a bike can be very expensive. Depending on the model you choose, you might have to invest a considerable amount of money. However, the investment will be worth it in the end!
Kawasaki W800
For something more affordable, but still, of superior quality, consider getting this model by Kawasaki. The design is extremely attractive, with every part being carefully designed for the best balance between retro style and performance. The substantial forks, the disc brake at the back and the slipper assist clutch make this bike not only aesthetically attractive but also high performing. Also, this model is a lot cheaper than similar options from other brands, but it might be harder for you to find parts.
Yamaha XSR700 Sport Heritage
This model by Yamaha will surprise you. Firstly, the value for money offered is incomparable to other brands. It provides its riders with all they need, not only in terms of safety tech and features but also in terms of style. The design is an attractive balance between innovation and retro styling. The great thing about this model is that there is a big aftermarket, meaning that you'll have an easier time finding parts.
The Best Modern Cafe Racers
The whole process of building your cafe racer from a donor bike can be exciting, that's true. But what if you don't have time? Well, luckily you can find several factory-built cafe racers, that are not only top-performing bikes but also extremely stylish and innovative.
Moto Guzzi V7 III Racer
This iconic Italian brand is all about style and quality. This model, in particular, might be hard to find as it is part of a limited edition. If you can find one, you'll never want to let it go. Its bold red frame, the beautifully designed rear end, and its superior performance do make a great bike.
BMW R Nine T Racer
Are you dreaming of having a BMW bike? This cafe racer variation of the classic (and popular R Nine T) might be your best choice. It comes without saying that this bike's quality is superior, extremely reliable and of outstanding performance. Of all cafe racers, many riders consider this model as one of the most comfortable in the market. This comes extremely handy if you ride your bike for long. However, you'll need to be prepared for a considerable investment.
Husqvarna Vitpilen
Compared to the other models we've mentioned so far, Husqvarna might be the least popular. Don't be fooled thinking that it is worse than the others too! This beautiful Swedish bike, with its futuristic look and great quality, will make a great modern cafe racer! Not only this bike stands out from the crowd thanks to its unique look. The Vitpilen model by Husqvarna is also designed to rely on the best and highest-quality technology. It comes in 2 sub-models: the 401 or the 701. Both powered by the same engine, the difference lays in power. However, thanks to the innovative design, both will guarantee superior traction and control.
The Bottomline: Classic Retro Vs Modern – Who Wins?
You might have a better view of the different options available to you. Ultimately, it is hard to provide you with a clear answer in terms of which style is better. Both retro and modern cafe racers can be great bikes. The final choice will come down to your personal preferences, your skills, your budget, and your riding style.
If you are a purist, consider buying a retro bike and then customize it accordingly. Before investing in one, make sure you check on the parts' availability and that you will have enough space and tools to create your cafe racer.
On the other hand, when buying a factory-made one, consider what you are looking for in a cafe racer. Are you looking for a stylish model? Or do you want a bike that relies on the most innovative technology? Also, think about the use you'll make of your motorcycle: will you ride it for long trips? Set a budget and investigate on the models that will satisfy your needs and that will meet your expectations.
We hope you find this guide useful and that it somehow helps you in making up your mind about what cafe racer is better for you. Use this article as the starting point to get the motorcycle of your dreams!
Finding the Best Cafe Racer Parts
The market offers for sure the most parts for BMW and Honda bikes. The more unique you plan your project. The harder it is to find parts.
There are a some universal parts available.
Finding the Best Cafe Racer Clothing
Check out my Clothing Guide to fit your cafe racer!