Café racing is slowly becoming a highly popular sport and there are hundreds of people who participate in it across the world. A special type of motorbike is used for this purpose. However, I would urge readers to keep in mind that it is different from dirt bike.
It comes with a rough and aggressive look. It would also be pertinent to mention here that many of the café racer bikes are products of DIY efforts. The bikes are known for their power, lightweight, and they are specially designed and optimized to reach very high speeds and handling.
They may not be suited best for those who are looking at comfort alone.
Add a header to begin generating the table of contents
7 Best Tires for your Motorbike
They are suited for short distance rides at high speeds. Hence the entire bike and the various parts should keep the specifics in mind. I will be devoting this blog to one part of any bike and it is the tires. I often come across the question as to what type of tires should be used for a café racer bike. Additionally, I will take some time reviewing seven favorite brands of café racer tires. I do believe that this article will help the readers to have a reasonably good idea about the importance of choosing the right type of tires for your cafe racer bikes.
What Are Cafe Racer Bike Tires?
I have seen many bikers choosing cafe racer style bikes because they perhaps believe that it looks gorgeous and stylish. Yes, I agree to this because these tires are indeed great looking.
But looks apart, there are a few more things that go a long way in making these tires especially suited for the rough and tough conditions associated with a cafe racing contest.
As mentioned above, most cafe racer bikes are built by the owners and therefore, I would recommend that they do their homework in choosing the right tire of the bikes.
These tires are available in different price ranges and many brands and models are also available in the market. You may have to do your research before choosing the right type of tire for your cafe racer bike.
Before I get into the review of seven different brands/models of these special tires, I am listing down a few things to keep in mind before choosing a suitable tire for your cafe racer style bike.
Deep Grooves: Road grip is important for safety and stability. Therefore, I would suggest to our readers that they should always look for a cafe race tire that comes with deep grooves. Deep grooved tires are also long lasting and they do offer good value for money.
Always go for a pair instead of one tire. In other words, if you are replacing the front tire, it would be a good idea to replace the rear tire also. This will improve stability and bring in uniformity as far as the entire bike is concerned. Yes, it will be a bit taxing on your pockets, but I would always recommend this.
Stay away from retreaded tires: You may be tempted to choose the low-cost retreaded cafe racer tires. But based on my experience and expertise, I am strongly against this. You may end up saving some money.
However, you will certainly be compromising safety, and when it comes to racing competitions, a retreaded tire could make all the difference between losing and winning the tournament.
You also could end up damaging the motorbike and that will be a case of being pennywise and pound foolish.
Never compromise on quality: This is a mantra that I keep sharing with all my friends and also readers who are really serious about their cafe race bike qualities. Here again you must refrain from the habit of saving money if you are keen on becoming a successful cafe racer over a period of time.
I am sure that the above few points may have helped my readers to get a reasonably good answer to the question as to what's the best tires for a cafe race style bike.
I am now getting in to the task of describing something more about
Our 7 Favourite Cafe Racer Tires
There is no denying the fact that Heidenau is a name that has stood the test of time when it comes to high quality tires for special purposes. I have reasons to believe that this could be a good buy for those who are on the lookout for a quality cafe racer style bike. It is features rich and I am sharing a few points that will help readers to know more about these tires.
It might be wrong to be taken in by the fact that it is a small tire manufacturing company. But it makes almost 550 different models of tires to cater to different requirements. The K60 that is compatible with a BMW R100 come with some exciting features that has made it quite popular amongst a big group of customers.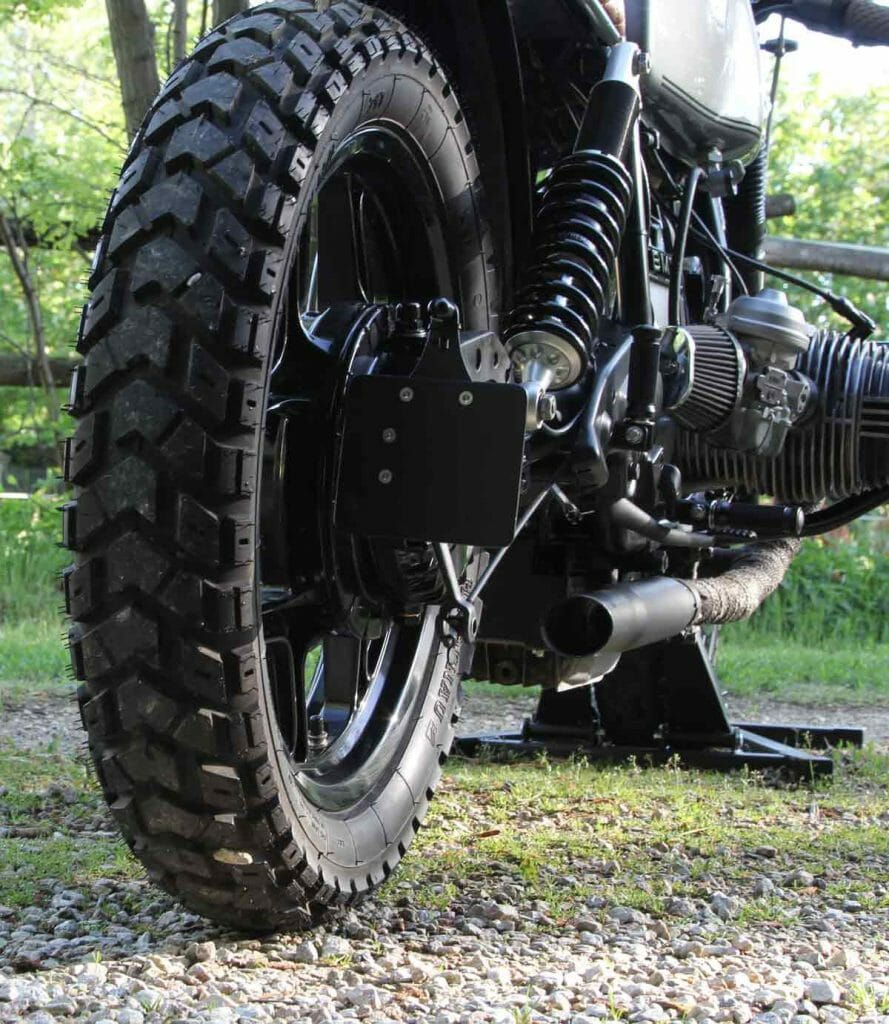 This tire is available in eight different sizes and starts from 17 inch and move up to 21 inch as far as rim size is concerned. It is compatible with many adventures and larger sized dual sports machines including BMW R 100.
It performed exceedingly well both in test and real life conditions. I have tested it with a load rating of 716 pounds at around 39 psi (rear) and 536 pounds at 36 psi as far as the front tire is concerned.
Having been associated with motorbike tires for many years now, I have reasons to believe that Shinko Super Classic 270 is a good buy. There are quite a few features that I consider as good takeaways. For example, it comes with a unique sawtooth design coupled with a full aspect ratio. I have found it almost similar to the Goodyear Super Eagle tire.
Some Interesting Features
There are some interesting features and they include a full 4 ply rate carcass that is made from high quality nylon. This extends the durability of the tire and is comparatively better resistant to wear and tear. On the other side of the spectrum, I am really impressed by its classic appearance. That is perhaps the reason many DIY enthusiasts are in favor of this tire.
It also is available Blackwall and Whitewall colors. It has the required S rating and can easily handle speeds up to 112 mph. I am also quite impressed with its load rating of 69. It is a tube type tire. It is perfectly suited for both front and rear fitment. It comes with a rim size ranging from 16 to 21 inches. Hence, I would recommend this tire for those who are looking for a quality café racer bike
If you follow motor bike tire manufacturers of repute, then you will have not many reasons to ignore a name called Pirelli.
I have quite a bit of respect for them and therefore I would like to share my thoughts about their Angel GT model. According to many reviews, it is the latest from the stables of Pirelli and I have reasons to agree with it. This new model GT is famous because it is based on the unique Gran Turismo Concept.
Some interesting Features
It comes with a famous precision handling that is very much in line with the proven Pirelli DNA history. This I believe may have reasons to improve the overall mileage in this segment. I have tried it and am impressed the way it grips tightly on the ground even on very wet surfaces.
This is perhaps because of the all new tread technology that are being used in the Diablo series of tires
Further, it is a unique product in terms of looks, design and appearance. It helps the electronic riders to literally talk to the tires and this goes a long way in improving overall riding experience. The rear tires come with a dual compound layout and I have liked this very much.
17-inch size available for the back, while the front ones are available in two options 17 and 19 inches.
Hence, there is quite a bit of excitement surrounding Champion Deluxe and many believe that it is one of the best in its class. My close observation of this tire has helped me to unravel a few things.
Some interesting Features
It basically serves two purposes. Firstly, I consider this to be a genuine choice for motorcycles belonging to the 1930 and 1940s. Secondly it appeals to those who are planning to customize their motorcycle and are keen on adding a vintage look to it. It comes with smooth sidewall and deep tread for improved looks and safety. It is suited for different makes of motorcycles including Honda, Harley Davidson, Triumph and many such models and makes.
The tire is chosen because I have seen it cover all brands and for cafe racers it is considered one of the best options. It comes in seven different sizes starting from 16 inches to 19 inches. Hence, there are obvious reasons why it is popular amongst many countries of the world including our own country.
Let me now have a closer look at Continental TKC 80 and see if it has anything special to offer. According to me it has a few interesting takeaways that are hard to ignore. This is one of the best not only for those who are looking for a quality café racing bike tire.
It has been designed for long distance traveling and of course for tough and demanding competitions. The tire is famous for its self-cleaning tread pattern and design. Therefore, it can offer the best of mileage
Some Interesting Features
I have seen it to be excellent as far as road handling is concerned and it grips quite securely even when travelling at high speed and even when negotiating bends at reasonably high speeds. It is compatible is the Original Equipment Option for BMW range and also for many ranges of vehicles from KTM including Enduro and Adventure R. On the whole, it is quite obvious that it is a great tire for cafe race bikes.
When it comes to cafe racing, my experience has shown that in many cases, there is quite a bit of off-road riding and racing. This is not easy and apart from skill set you need to have the best of tires that can grip even in some uneven and loose surface.
Amongst the many options, my money would certainly be on Mitas tire e10 and the reasons for the same are being discussed hereunder briefly.
Some Interesting Features
I like this particular model of tire from Mitas because it is able to maintain the perfect balance between off road and on road use. Therefore, it has won the confidence and trust of many dozens of sports riders and even those who are using it for casual rides. The tire certainly has some wonderful takeaways and here are a few of them.
This is basically a 50/50 tire and therefore one of the best for on and off-road use. It can easily handle dry road, climbs and tricky turns and loose soils. Further, it is known for its longevity and therefore I believe that it can offer good value for money to its buyers.
It has a normal life span of around 8000 to 12000 km depending on usage and riding style. This is one of the best choices for all those who are looking for something hardcore while using it in off road conditions.
It has that classic appearance. It is a tire that has been designed on the inspiration of Isle of Man TT. I am sure that it is a good alternative to RoadSmart III tire.
Some Interesting Features
It can easily handle 100 mph and it has been in production in the USA for many decades now and has won the trust and confidence of thousands of bikers across the world. It can be used with a number of retro vehicles like BMWs R Nine series, Yamaha XSRS and other vehicles.
I hope that this blog would have given our readers some useful and informative insight into the various aspects to keep in mind when it comes to choosing the right cafe race bike. It may help you to choose the right tire based on specific needs and requirements.