Until the late 1950s, the bike racer community was perceived to be rowdy and social delinquents-negative perceptions we made from people who view them as unworthy.
But what makes them resistant to those stereotypes is their ability to change peoples' way of thinking into badges of honor. The truth is bikers are not the scam of the world.
Instead, they are a bunch of productive and robust willed characters that are out to prove to everyone that they have what it takes to gain respect and trust.
But what is it about cafe racers that make them a unique culture?
Read on to discover the top 10 cafe racer websites.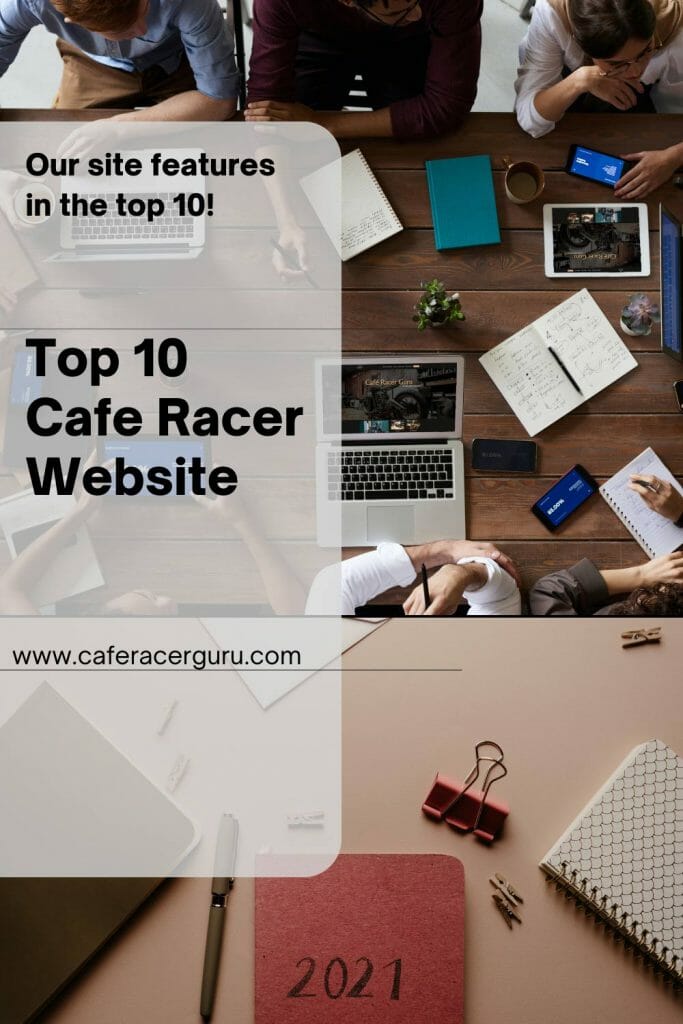 Unlike ordinary bikers, cafe racers were a team of DIY experts that transformed ordinary motorcycles into means of transport and survival. What started as an insult to the motorbike community could have been the reason why cafe racers are popular during this time. The term was primarily meant derogatory terms to put them down. With time, the sub-culture saw the growth of cafe racers as part of the motorcycle community.
Add a header to begin generating the table of contents
The Top 10 Cafe Racer Websites to Watch Out For
If you are a keen follower of café racers, here are some of top-rated the websites you need to visit:
Reputable cafe racer companies always have a story to tell; Cafe Racer Garage is not any different. It may have started as a small garage in Europe, but with many years of hard work and dedication, the company has built parts to personal bikes that have drawn a sensation in the cafe racer industry. With time, it decided to open a new store to produce those parts to the public. And just like that, a cafe racer company was formed.
After some years, the company saw the need to expand its territories in Europe, America, and Asia. The rise in demand for unique motorbike parts is what led to their expansion to these continents. Now customers do not have to incur shipping costs regardless of where they are.
The company's mission is to ensure all customers get their products so that they can customize their cafe racer motorcycle. Through a wide range of quality parts, you can purchase parts and accessories to the café racer community at unbeatable offers. The company always prioritizes customers with excellent customer service through the provision of quality-assuring parts and solutions in the market. So whenever you feel like refurbishing or customizing your bike into something of your choice, visit their official website to submit your order.
Are you a cafe racer enthusiast with a unique taste for customized motorcycle designs? If yes, BikeBrewers will hook you up with a motorbike of your style and preference. It is a team of café racer designers that customize motorcycles, brat-style, and greasy petrol-head lifestyle for fans in the UK and across Europe.
The company derives its inspiration from brewed beers, giving fans a taste of what riding a classic custom bike is all about. It takes skills, perseverance and an eye for detail to do the job right the first time. Just like a fine-tasting beer, the end justified the means. Its primary goal is to change the old perception of café racer through modified, customized and brewer concepts. This team will take you on a rollercoaster ride into the fascinating world of excellent designs.
Every handy DIY project has a story to tell. The team of petrol-heads will guide you on how to customize or refurbish your old bike into something you have always dreamed of having. The crew invites any person to contribute to the site using their contact form or direct messaging. Their motto "Keep the Shiny Side Up" is what motivates them into creating unique designs every modern racer will want.
Whether you are a beginner or an expert at motorbike riding, being part of a cafe racer community is essential. The need to join other racer enthusiasts is what makes Cafe Racer Forum an excellent place to be in. Since its formation, it has attracted more than 16.9K members and more than 401.1K posts. This platform allows you to meet other people that have used special parts to unravel the biking experience.
Once you join the page of Facebook, you can make a post and people will reply depending on their experiences. The page administrators always have something new they want to share with members. Their primary goal is to provide a haven for people who have no idea on how to spruce their bikes without subjecting them to public ridicule. Once you make a post dedicated to the café racer style bike owners and enthusiasts, you will get automatic replies.
The page consists of biker owners who have dealt with a wide range of suppliers from all parts of the world. So you can be sure you are the right on track. To be a part of the Cafe Racer Forum on the debate about restoration, performance, racing, classifieds, troubleshooting and more, join the community on Facebook.
If there is one way to describe the modern-day men's lifestyle, it is through Hiconsumption. The company was formed by gear-heads for gear-heads as world-class lifestyle publication. The team of café racer engineers hails from California. In this place, experimental backyard landscapes keep them in the know of what is to come in the world of adventure, tech, gear, and automotive.
Offering expert opinion on the latest designs is one of the things that have kept Hiconsumption crew going. Since the company thrives on merits, it strives to remain on the cutting edge of a world worth the adventure. As long as you share the same principles, you will have an unlimited supply of information concerning the latest designs and how you can put your café racer skills to use.
In one of their latest blogs, gear-heads have been treated to 18 best custom motorcycle builders. If you are interested in purchasing one of these products, have a look at the list they have come up with. Their primary goal is to help you get an advantaged knowledge of mechanics to create something that is enviable to the biker community. Get the latest updates and trends through their official website.
5. Return of the Café Racers
You never know how interesting a cafe racer adventure in 2020 will be, until you visit Return of the Cafe Racers webpage. Since its formation in 2006 under the editorial works of Geoff Baldwin, the site has attracted a social media following in excess of 700K. This translates to a massive global audience like no other.
Back before the website was formed, café racers did not have a place where they could derive information or share their experiences. Baldwin had to step up to bridge the gap by coming up with something worth documenting at the café racer scene. Since then, the world of café racers has never been the same.
If you are visiting the website for the first time, you will get the latest updates on workshops, brands, and the brains behind cafe racer designs. People have come with stories to explain why café racers have become one of the most popular trends in the world of motorcycle customization. The site also offers technologically-advanced builds, new motorcycle, riding gear reviews and stories to help you customize your latest motorcycle project. Stay up to date with the latest posts by subscribing for the newsletter or liking the Facebook page, or following Baldwin on Instagram.
If you are looking for a global showcase of custom motorcycles, BEEXIF is the website to explore. Since its formation in 2008 under the publishing works of Chris Hunter, the sire has attracted over 1 million views per month and three million monthly impressions from social media. With referrals for factory custom builds from giant manufacturers such as BMW, Harley Davidson, and Yamaha, bike enthusiasts, will have no problem finding all the information they require about café racers. Now bike enthusiasts have been treated to trendy cafe racers, bobbers, and scramblers with an unlimited modern-day audience worldwide.
You must be wondering; how did the name "EXIF" come into being? The term stands of Exchangeable Image File Format. This means that a digital camera captures all the data when a photo is taken for storage in an image file. It is no doubt why the site uses good photography to accentuate the bike builds. By clicking on each photo, you will get all the relevant information relating to the bike build, manufacturers, reviews, and suggestions on how you can use them to your advantage.
To get the latest updates on new apparel for review, all you need to do is to provide your mailing address. The post office number is available on the website for all bike enthusiasts to reach.
Sidney, Australia, is a popular place for cafe racers. After buying a Yamaha SR400, two residents Scott Hopkin and Mark Hawwa saw the need to set up a website in January 2009 to enlighten bike owners on custom bike materials that are made to last. If you have watched The Distinguished Gentleman's Ride (DGR) and Throttle Roll Custom Motorcycle Shows, you have probably gained an insightful review from one of Pipeburn's site owners- Mark Hawwa.
It has been 11 years since the site was formed. Just like that, it has recommended over 3,000 bikes and gained 230k and 400k followers from Instagram and Facebook, respectively. Through Hawwa's contribution to the cafe racer community, he has raised over $24 million towards the Prostate Cancer Research and Men's Mental Health. He has organized rides in over 104 countries to raise awareness of these two conditions because they are likely to affect café racers than any other person.
The site is open for cafe racers across the globe with a deep passion for motorcycle builds and those who express a notable interest in worthy courses. So the next time you want to read the latest updates on motorcycles every week of the year, visit the website and signup for a newsletter.
Once again, you have the chance to find a helmet for that cafe racer old-school style thanks to the Cafe Racer. By the time you are thinking of having a breathtaking biking experience, you must be sourcing for a helmet that will protect you and make you the center of attention among other café racers. If you are a US cafe racer enthusiast, you will be happy to note that the DOT standards have approved this helmet. It is perfect for bikers of all nature.
When it comes to comfort, Gringo has what it takes to protect your head in case of an accident. Its shock-absorbing inner shell is made of materials that prevent your head during crashes. The package also comes with goggles that protect your eyes from dust, the sun, and rain.
Riding a cafe racer also comes with risks. You need to prepare yourself for any accidents, regardless of whether you are a newbie or an expert biker. So, if you are looking for a helmet with more defined features at an affordable cost, visit the website's official page. You will learn more about the specifications, how much it costs, and whether it is compliant.
If you are looking for an online
destination that has custom, classic, and old-fashioned motorcycles across the
globe, BikeBound is the website to visit. This site not only offers a wide
range of custom-made bike parts, but it also has experts who are ready to take
you through the world of café racer mechanics. Here, you will meet
with people that have drawn inspiration from the works of notable biking
engineers.
Taylor Brown founded BikeBound- an ardent
biker who drew his inspiration from the bike weeks he attended in Daytona and
Sturgis. Since he has had the chance to own a series of dirt bikes, he has all
the experience to recommend the best designs for all types of bikers. Also, he
is a skilled blogger and professional writer whose work has been manifested in
fictional writing. So, when you visit his website, you will be sure to get all
the information you require about bikes.
The site also features a senior correspondent- Rick Brown, who reports about events around the country. Though he passed away in October 2017, his works continue to inspire fans all around the world. An XS650 was built in his honor to remind fans that he is still with them in spirit. 
If you want to be part of a community that shares a love of old-fashioned motorcycles and cafe racers, CafeRacerTV.com by Chet Burks Productions is the website to watch out for. Since its formation in 2003, the site has produced many award-winning television programs for several network and cable partners. From vintage motorcycles to trendy bike parts, you will have a taste of how it feels like to be part of the café racer community.
Initially, CPB was formed as a production company for motorsports to create and produce live race events. The massive recognition it received from up to 40 million homes is what encouraged it to expand its production scope. As of now, fans can watch reality TV shows, including Cafe Racer and What's in the Barn. Also, a special collaborative partner, Dunn Creative, takes part in producing content, including video production and social media marketing. Now fans can use this platform to transform their dreams into reality through a compelling message. The site is open for all cafe racer enthusiasts no matter where they are from.
DIY concepts are getting popular, even with the café racer community. At Café Racer Guru, we help you customize your ordinary-looking bike into something worth riding. Our bike gallery provides a wide range of collections for you to choose from. We also have guides and articles that can inspire you into being an expert at bike builds. Our affiliate programs also offer advertising programs for people that want to earn through advertising. If you aren't sure of which category you fall into, we will be ready to get you on the right track. For more information concerning our products and reviews, visit our official page.
As a café racer enthusiast, you probably want to know what types of websites to visit in order to access products and any other information worth your time. Stand out from the crowd today by choosing a cafe racer which defines your aspirations and way of life. Whether you are looking for vintage, retro-style, or modern-day cafe racers, these sites will offer you all the information you require.
The primary goal of these sites is to change the old narrative that aims at degrading café racers. The positive feedback from people on social media, television and magazines is what drives bloggers and editors into producing new information. The more it grows, the better for the café racer community.
The Ducati Scramble can be an awesome starter bike! A very comfortable sitting position, which allows nice control over the motorcycle. The engine is pleasant
Read More »
Fed up with the rain? Your motorbike will be, too, if you make these mistakes.Although motorcycles are built to withstand rain and are generally fine
Read More »