If you are more than a casual bike rider, you would prefer to go to distant places to enjoy the weekend. You may need to carry important stuff like tech devices, weekend essentials, baggage, etc. For that, you need a strong and handy backpack. However, the best cafe racer backpack should serve one important purpose, and that's vintage style.
Some of them are built to handle relentless exposure and provide superior internal capacity, tear-resistant, modular cargo systems, and so on. These features allow your personal belongings to stay even during your travel. Hence, it is important to look out for certain factors before buying the best cafe racer backpack.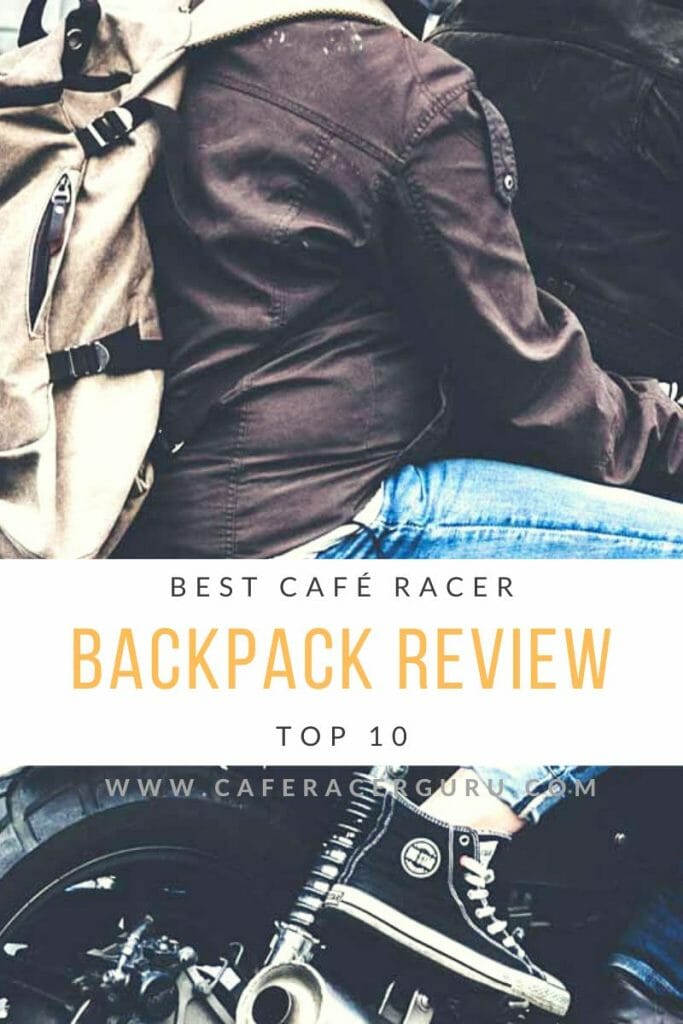 We're an affiliate
We hope you love the products we recommend! Just so you know, we may collect a share of sales from the links on this page. Thank you if you use our links, we really appreciate it!
Take note of how frequent you ride on your motorcycle
If you are a person who believes that riding is an integral part of your life and you shouldn't spend a day without it, you have to buy a more durable, dependable, and a sturdier backpack. I recommended you never to be critical when it is about quality.
Remember that the best backpacks handle endless journeys, weekend road trips, and prolonged commutes with ease. When you cover short distances like going to college or work, any decent quality backpack would serve your purpose. Simply put, if you spent more time on bikes, the backpack has to be better.
What you intend to keep on the backpack
You may need backpacks to hoard certain motorcycle equipment such as gloves, knee pads, helmet, etc. Or, you may need to store expensive things like a laptop. Or, maybe you are keeping an extra pair of shoes along with other personal items for covering longer trails. If so, you need to find backpacks that provide functional compartments.
However, some models have extra space for
carrying laptops. It is likely that you can accommodate your helmet on those
bags. So, take a proper understanding before buying. It is very important that
you buy a backpack that fits your storage demands. You should put emphasis on
the things you carry frequently.
If you don't have any problem with shedding a few extra bucks, you may consider buying separate backpacks. Make sure that one of them can carry a laptop. As such, you can comfortably take your belongings depending on occasions. 
The area where you ride the most
Do you reside in an area that is subjected to extremely hot weather, or have regular rainfalls? Previously, when I talked about the durability of the product, I referred to the resistance level against factors such as snow, rain, sun, etc. These things matter most if you are riding through rough terrain.
You just don't go outside with a cheap quality item and expect it to handle the odds. Such products won't last for a longer time. It may take a few months or even two or three weeks. When you use the item within local commutes, you can get away with a cheap product.
Regular travel amidst harsh climates like the scorching sun or heavy rainfall can shorten the life of your backpack. That's why I recommend you not to go for a cheaper model, and select one that is able to withstand the harsh weather conditions.
Vintage Backpack - The appearance of your backpack
That's an important factor you need to consider while buying the best café racer backpack for a motorcycle enthusiast like you. Basically, we are searching for a vintage style backpack. Maybe a saddle bag fits our needs more?
The design and appearance of the product influence the quality and affects your overall experience. There are numerous products available on the market. And, many of them have attractive designs.
You can find many models that are specifically built for enthusiast sport bikers. On top of that, they come equipped with modern and advanced dynamics designed for high speeds. Some other products are more versatile and developed for those who frequently ride bikes.
What I feel personal is that looking attractive is associated with the things we carry around with us. Visual attractiveness is quite important because it makes you a happy person. Now, imagine yourself carrying a classic and well-designed backpack instead of something that looks ordinary. Well, see for yourself.
Drag is the reason why you need to adjust the straps so that the backpack can sit comfortably on your back. The straps should be manually adjusted, and hence you need to look out for them while buying the backpack. Adjustable hip belt and shoulder straps should be there on the model to prevent drag.
However, a simple, sleek, and slim design helps in creating the least drag. Furthermore, a backpack with waterproof technology can't be overseen either. They are smooth and have the ability to minimize drag from their own material. Going by their looks, these models are very compact and slim.
High-quality and durable materials
When it comes to strength and toughness, you need to think about them. When you take frequent and longer routes, you need a reliable backpack specially made of sturdy and durable material. I recommend you to buy only the sturdy and heavy-duty product that is able to bear all the toughness during the journey.
When you are out there on the road following an adventurous trip, it's likely your backpacks are exposed to normal wear and tear. I know that you don't want to ruin your ride by thinking whether or not your bag will be able to make it through. You can consider buying waterproof brands because they are light in weight and durable enough as compared to the hydrophilic ones.
Extra pockets and large compartments are crucial features that can securely hold your personal belongings. Some of the best models have options for organizing your personal items and they are priced a bit higher than the casual ones. You may notice that a few models have rainproof zippers of high-quality.
You know I have highlighted previously in the article that the size of your backpack greatly depends on your body structure, height, and weight. But there is another key factor, which is capacity. When you decide to go on a short road trip at the weekend, you have to take a few clothes, cameras, etc.
A bag that has an internal volume of 50 to 60 liters, serves your purpose. The primary compartment is an important one. If you aren't sure about the purpose of your travel or carry a few things, you may consider a model with about 50 liters of volume.
Look out for a waterproof backpack
I recommend you to buy a waterproof model even when you are not commuting distant places. You never know how your day is going to be. Hence, you need to be prepared for that. You will find many models that have 100% waterproof. Some models may even save your personal items from a hail storm.
While buying a bag, you need to look out for the material. It is not a good idea to follow sleek designs and attractive colors instead of built quality. You need to be cautious about it. The type of cloth used to produce regular backpacks leaves adequate space for water to seep in.
The weakest thing in any waterproof bag for bikes is the openings. Very few systems provide protection from water. If some brand claims that, don't believe them in haste. Rather, you need to thoroughly inspect the item. If water gets soaked up, your belongings can get damaged. Waterproof backpacks cost a little more than the regular ones, but it is worthy of your money.
The size of your body matters
The first thing you need to look out for before buying the best backpack is your body structure, weight, and height. You may think about why it is so necessary for buying. You need to understand that there is a range of different types of backpacks. Some may fit your body type, while others may not.
These are the things you carry on your back. And, they do exert some pressure on your back. Hence, make sure that you aren't putting a strain on your spine. The size of your hip is another thing to consider. There are many backpacks that have adjustable hip straps.
Therefore, select one that sits perfectly around your hip bone. This way, your ride would be comfortable and you won't feel the pressure of the load in your back. If you love to travel distant places and ride for prolonged hours, this is an important factor that you can't compromise on.
Whatever be your preference for buying the best backpack, make sure that you spend adequate time researching different kinds of models available. Select a model that suits your expectation.
Can you wear a backpack on a motorcycle?
Yes! You can ride a motorcycle and wear a backpack. Just make sure you choose the right size.
Are motorcycle backpacks dangerous?
Backpack can get heavy. A firm fit of the backpack must also be ensured. So that the bag doesn't slip. Attention should be paid to the road, especially to other road users…
What is the difference between a motorcycle backpack and a normal backpack?
Special motorcycle backpacks often offer back protection. As well as special equipment:
Chest strap
Waist belt
Streamlined
tight closure