The Ducati Scramble can be an awesome starter bike! A very comfortable sitting position, which allows nice control over the motorcycle. The engine is pleasant with a little more power. It could be to much power for few people. Nevertheless, the motorcycle can be maneuvered comfortably and with little effort. You can't throw all Ducatis into one Tiof. The Scrambler is something complete different than a panigale.
Whether it's a craving for speed or the desire to feel the wind in your hair (metaphorically, of course, wear a helmet people) you're here because you've got your eye on a shiny new toy. But before you pull the trigger on that Ducati Scrambler you've been eyeing, let's talk about beginner bikes.
What makes a good beginner bike ans is the ducati a good choice?
Do you know how they say "It's like riding a bike." to let you know how easy something is? Well, there's a reason they don't say, "It's like riding a motorcycle."
It's never a good idea to just hop on a motorcycle and take off on a whim, especially if you're new to it. Before you buy your first motorcycle, spend some time doing research.
You don't want to get more bike than you can handle the first time around. Think it through and consider the following:
Engine Size: While it's not the most important thing on the list, it is something to think about. As a rule of thumb, I recommend an engine size of 600cc or lower. My first bike was a 125cc and I loved how comfortable and confident I was driving it.
Horsepower: It's tempting to go big or go home with this one, but for a beginner bike, less can be more. I'd stick to something between 45-90 horsepower for a first bike.
Anti-lock Braking System(ABS): This doesn't come standard on all bikes, but I highly recommend making sure your first bike has it. As a new rider, you're more likely to over-apply the breaks. You don't want to find yourself skidding across the asphalt with locked up tires and breaks.
Seat and Handlebar Height: This one is all on you, and trust me, you're gonna wanna spend some time on it. Test it out! It's so important that you're comfortable on your motorcycle and that you're able to handle it.
Weight: For a first bike, the lighter the better. The average motorcycle ranges in weight from 350-820 pounds. That's a huge range. Lucky for you, Cafe Racers are typically on the lower end of that scale.
Take the time to research and try out the bikes you are interested in. The Ducati Scrambler is a top-rated popular bike, with good reason. But, is it a good beginner bike?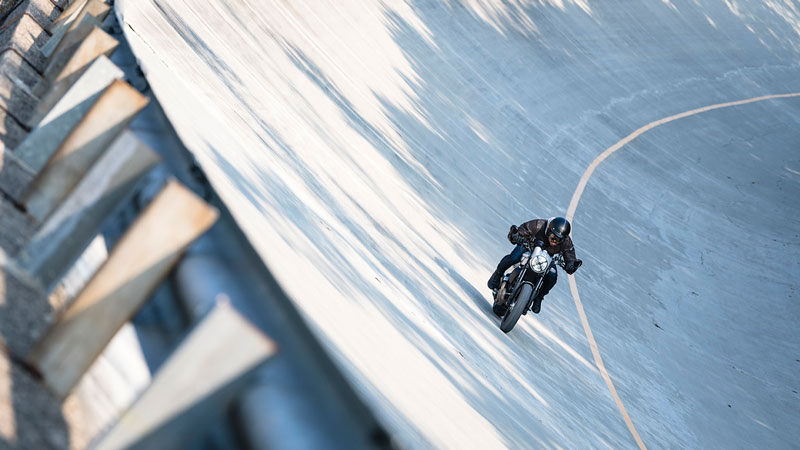 Is the Ducati Scrambler Cafe Racer a Good Beginner Bike?
Yes.
There are nine current scrambler models (well, ten if you count the mountain bike), but we're focusing on the Scrambler Cafe Racer.
I'll start by saying, I can definitely see the appeal of the Scrambler Cafe Racer. It's the perfect modern embodiment of the 1960s Cafe Racers.
The minimalist design and the lightweight body built for speed and handling scream freedom and rebellion. It's a great nod to the past.
It's all too easy to get caught up in the style, but when you're looking for a first bike you have to consider the specs.
I even go a bit deeper in my other post which I exclusively dedicated to the topic of whether a cafe racer is good beginner biker or not.
So why is the Ducati a good bike to begin with? Here are soem Ducati Scramble specs:
Let's talk about engine size and power. The Scrambler Cafe Racer has an 803 cc two-valve, twin-cylinder engine. For those of you keeping track, this falls outside of my recommended engine size range.
But, combined with some of the other features, I'd make an exception. More on that later.
The 73 horsepower falls within my recommended range, making it great for beginners. It's built to be quick, but it's not supposed to scare the pants off of you. 
As most Cafe Racers are, the Scrambler is on the smaller side. The 31-inch seat height coupled with the 432-lb weight makes the Scrambler easy to handle and maneuver. The size makes it great for beginners and smaller-framed riders, alike.
Pro
Motorcycle Size: The smaller size of the Scrambler is great for new riders
Brake System: ABS is standard, and combined with the Brembo 330mm front disc and 245mm rear disk, makes the brakes responsive and safe.
Comfort: Unlike many Cafe Racers, the Ducati Scrambler Cafe Racer is ergonomically designed to make longer rPower Delivery: The torque comes on low, so it's easy for new riders to controlides more comfortable.
Cable-Actuated Throttle: Built for smooth take-offs
Con
Engine Size: 803 cc / 73 Horsepower could be a LOT for some
High Price: For a beginner bike, the starting price is a little high. (5 digitals)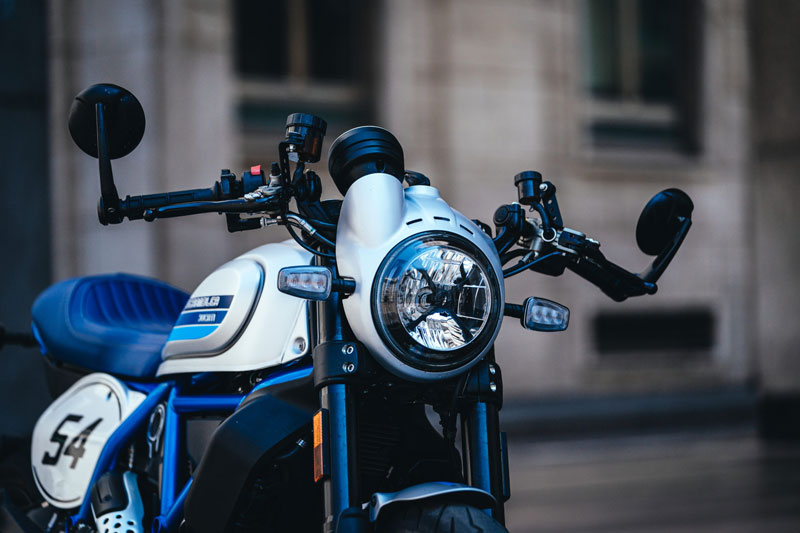 The Ducati Cafe Racer comes with a special equipment kit which consist of:
Clip on handlebars, alluminium handlebars mirrors, sport style front mudguard, dedicated side number plate, "cafe racer" seath with passenger seat cover, spoked aluminium wheels.
Ducati CafeRacer Specs
| | |
| --- | --- |
| Engine | L-Twin 2 valves per Cylinder |
| Cooling | Air Cooled |
| Displacement | 803 cc |
| Horsepower | 73 hp (54 KW) 8250 rpm/min |
| Torque | 49 lb-ft (67 NM) @ 5750 rpm |
| Exhaust | Stainless steel muffler with catalytic converter and 2 lamba probes, aluminium tail pipes |
| Fuel injection | Electronic fuel injection |
| Consumptopm – Emissions | 5,1 l/100 km – CO2 119 g/km |
| Gearbox | 6 Speed |
| Drive | Chain, front spocket 15, rear sprocket 46 |
| Rear and Front brake | ABS as standard equipment (Front 330mm disc 4-piston, Back 245mm disk 1 Piston) |
| Wheelbase | 56.5 in (1436 mm) |
| Fuel tank capacity | 3,57 gallon US (13,5l) |
| Dry weight | 396,9 lb (180kg) |
| Seat hight | 31,7 in (805mm) |
| Number of seats | Dueal Seat |
| Details Warranty | 24 months unlimites mileage |
| Service | 7500 miles (12,000 km / 12 months |
All information regarding datasheet by Ducati. Liability excluded
More about the the bike on the ducati homepage.
Choosing your first bike is such an individualized experience. Motorcycles are not one size fits all. Same as finding the right helmet. I laid out a few guidelines to get you started, but remember the most important thing: You have to pick a bike that fits you.
Your first bike needs to be comfortable and easy for you to handle. The ultimate thing to consider is safety. Choose a bike that you feel confident controlling.
Test it out before you buy, and make sure it's a good fit.
The Ducati Scrambler Cafe Racer is a great option for a beginner rider. While the engine size is a little on the larger size, the good heavily outweighs the bad here.
The Ducati Scrambler Cafe Racer is the perfect size for a beginner, as long as it's the right size for your build.
Test it out before getting your heart set on it. If you're a little on the larger size, this bike may be too small for you. Not to mention, the suspension might be lacking for the larger-framed rider.
When you're looking for a first bike, the most important thing you need to consider is the ease of handling.
The Ducati Scrambler Cafe Racer is easy to handle. Its size makes it manageable, the braking system and adjustable suspension add to the safety and comfort, and the throttle control and torque give new riders ultimate control.
The Ducati Scrambler Cafe Racer lets you embrace the rebellion and speed of the Cafe Racer lifestyle. Give the Ducati Scrambler Cafe Racer a try and you may find it's the perfect fit for you.
Are Ducati bikes good for beginners?
Yes, because they a lower and more maneuverable
Are Ducati scramblers comfortable?
Yes, thanks to their seating position and soft upholstery
Is the Ducati Scrambler a reliable bike?
If Ducati is not reliable, which company is it? Yes
Is the Ducati Scrambler a small bike?
Depends on the definition of small bike. Enigne size, there are bigger bikes. Bike size, mid range. In relation to the rider, the motorcycle is less suitable for very tall people
Related Posts: